Mermaid Pillow Bed Cover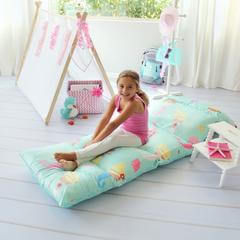 Mermaid Pillow Bed Cover
Specs
SOFT AND COMFORTABLE: We use only super-soft premium fabric, gentle on the most sensitive skin types. YOUR pillows from home will add support, bounce and make it feel like a "little bit of Heaven". Great way to Relax and hang out.
VERSATILE: Comfy, cute and fun! Easy to maneuver and less time consuming than an inflatable bed or air mattress. Perfect for travel, camping, vacation or visiting Grandparents. Folds into a floor lounger seat or lay it flat for a pillow bed, depending on that moment's activities. For kids who love to lay on the floor, our pillow lounger adds comfort for playtime, watching TV and reading. No more bulky bean bag chairs, your kids will love to cuddle up in the warmth of our whimsical loungers.
PART OF HER WORLD: Great decor for the mermaid-themed bedroom or playroom. Some of the uses include play date, nap time, sleepovers, overnights at grandparent's, video games, reading pillow cover for the book nook and watching their favorite underwater adventures on TV.
EASY CARE INSTRUCTIONS: Machine wash, cool water, delicate cycle, tumble dry low. Fade resistant so it will stay fresh and new.
PACKAGING & SIZE: COVER ONLY and fits 5 of your pillows. Pillows are NOT included. Queen Size: fit 5 Queen or Standard pillows, measures 26" W x 88"L. King Size: fits 5 king-sized pillows, measures 32" W X 88" L. Both sizes will fit great for older kids, teens and adults.
This easy-care floor pillow cover with a fun mermaid motif, comes in 2 different sizes: Queen and king pillow sizes. YOU provide the standard- or king-sized pillows. Our lounger pillow cover is the perfect alternative to expensive chairs, sofas, floor pillows and floor cushions. Cover is machine washable on delicate cycle and line dry. Great for sleep overs, watching TV and movies, extra seating, book nooks and overnight guests. Perfect for themed mermaid bedrooms and playrooms. Darlin', it's better, down where it's wetter, under the sea! 
Q: Is the pillow bed soft and comfortable?
A: Yes, "Soft and comfy" are the words most frequently used when our customers describe our pillow bed cover. The cover is constructed of premium soft, plush fabric. We had your kid's delicate skin in mind when we chose the material. Proven safe for the most delicate skin.
Q: Can  I use your product as an alternative to portable toddler travel beds, air mattresses, inflatable beds or kid's floor mats?
A: Yes, our toddler sleepover bed is portable and fold-able, easy to move and fold for storage. Saves you trouble when compared to the time it takes to inflate air mattresses. Compared to other standard, fold-up toddler beds, our pillow bed is safe for your most restless sleeper, super soft and cushy. Word is, our pillow bed is so soft, many kids prefer the pillow bed to their own.
Q: What do people use the pillow bed for?
A:Our pillow bed is so versatile, there are many uses for it. Parents purchase it for overnight guests, visiting Grandma and Grandpa, travel, vacation and camping. The most common use is for slumber parties having cousins and friends over for sleepovers or having a sleepover in Mom and Dad's room when extra TLC is needed. Another purpose is to encourage reading, our pillow bed can be used to stage a reading corner or nook. Also great for playtime, watching TV, playing games or just hanging out.
Need help with sizing? Have a suggestion or feedback? Let us know! Submit your question using the form below and we will get back to you!